Which Type are You?
Do you ever dream of ending the 9-5 (or the 7-8 on some days)?
Do you have a passion that you would love to have more time for, perhaps even share that passion with others?
Then I suggest you take the work from home quiz.
I can hear you saying right now - "What does this have to do with cooking?" Everything, because it has to do with maximizing your time in order to be able to plan and prepare healthy meals.
"What! How can working at home help me cook?"
How many times have you come home late from work? Did you have a meal plan all ready or was the meat frozen and your enthusiasm to cook diminished?
Have you had a moment to go shopping - with a list?
Or do you run through the drive through simply because you, and the family have to eat - NOW!
Imagine how much time you can get back with out the commute. Imagine how easily you can plan meals with a bit of extra time.
Imagine the sense of accomplishment taking care of your family's health with good food and your finances by working from home.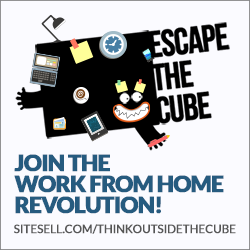 Imagine
Flexible hours
More family time
Freedom from the rat race
Independence Mobility
So really working from home has a lot to do with cooking and meal planning, and so much more.
If you haven't taken the work from home quiz, take a moment to see if working from home is for you.